Wearable Tech Devices in Today's Sports
The time when all you needed for playing professional sports was a pair of sneakers and some jersey has long gone. Today, pro athletes are equipped with all kinds of special outfits, and a lot of them have to do with technology. Sports fans, on the other hand, use online resources to support their teams and players, like the Bet9ja registration which adds a little kick to the match they are following.

Wearable tech devices have been incorporated into sports for well over a decade, but it seems that athletes now use this kind of technology more than ever before. In this article, we will list and explain some of the most popular wearable gadgets that athletes use to improve their performance and stay ahead of the competition. Let's begin!
Movement Tracking Systems
Watching video footage of a game can give you an insight into players' movements and activity in the game. However, there are many wearable tracking systems that can give you the same information about this without the need to watch pre-recorded games.

The Kinexon Tracking System, for example, is a tiny sensor used in top basketball tournaments to measure the movement of players. This lightweight device which is placed between the shoulder blades allows the accurate measurement of position, movement, speed, acceleration, jump, as well as other things.
Professional Racer Gadgets
Professional racing is all about the details. Many things reflect the final outcome, and they have to do with both the vehicle and the racer himself. Apart from monitoring the car or a bike, a device such as Sensoria is able to collect data about the racer and measure, among other things, their heart rate and reaction times. With this gadget, you can also record a video of the race, and it serves the purpose of collecting vital information to improve future performances.
Injury Prevention Devices
One of the most annoying things in professional sports are injuries. They are not only frustrating to the player who is forced to take a long break, but also to the audience that is left without watching his or her performance.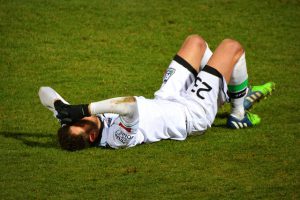 Thanks to many injury prevention devices, athletes now can have a better understanding of what causes their body to fail and how to stop it in the future. By collecting data on how the body reacts to certain physical challenges, the devices like Catapult can send alerts to coaches and players and inform them when and why the athlete's body might be at risk.

While it doesn't directly prevent injuries from happening, this technology serves to expand the knowledge of why certain injuries might occur.
Basketball Shot Tracker
This product is used exclusively by basketball players. It consists of two major components — one that's put on a player's wrist and the other that goes onto the basket net. The device simply measures the accuracy of a player's shot success during practice. It can tell you how many times you shot the ball and which was the success rate.
Wearables for Runners
There are plenty of wearable gadgets for joggers, runners, and professional sprinters —– from wristwatches that record your heart rate and body responses to cutting-edge shoe wearables that measure the interaction between the ground and your shoes while running.

By reading into the data collected from these devices, runners can adjust their training routines and have a safer and more effective exercise.