How to Build a Gaming PC on a Budget
Video games are popular and today, most people game on some sort of console, mobile device or PC. PC gaming has become a bit more popular lately, due to the relatively late arrival of next generation consoles. PC gaming is on the rise once more.
One of the reasons behind this, is that in 2017, AMD made a resurgence and brought back competition to an otherwise almost monopolized market. Intel had to lower prices and increase core count, something which they didn't do in 9 years. Prices were chopped and people had access to cheap computers which are capable enough to game, certainly more capable than consoles.
For the gamer on a budget, here is what you need to know in order to build a PC.

The Right Used PC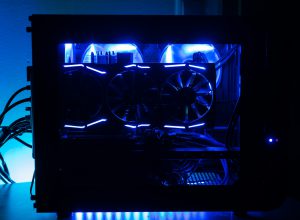 The used PC market is a great way of obtaining a PC for cheap.
Anything with first generation Ryzen should suffice for the CPU part.
For the graphics cards, anything from the Nvidia Pascal family, like the 1060, 1070 or 1080 cards will be great. For the Radeon side of things, Polaris cards, namely the 480, 580 and 590 cards, or Vega cards, the 56 and 64, can make for great, relatively cheap gaming machines.
Make sure to have a knowledgeable friend check the PC being sold for inconsistencies such as a low grade power supply or a cheap motherboard. Those two are most of the reasons why PC components die early. Check out sites like Ebay or comparable sites in your country to find the right used PC.

A New PC – Gaming on State of the Art Technology
Depending on your budget, you can purchase a new PC and build it yourself, or have a friend do it for you. You will need the right components, such as storage, a case, a motherboard, a CPU with a cooler, a GPU, RAM, a monitor and peripherals.
Given that you want to spend as least as possible, here are the parts to look out for.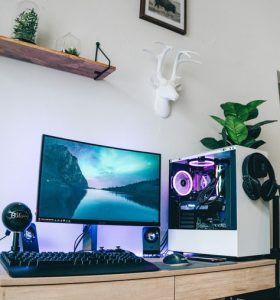 Motherboard:
Almost any B450 motherboard for the AMD processors would suffice. For Intel, if you want the latest generation motherboard, the price starts at 150$, which is a lot for gaming on a budget. Last generation products can be purchased, with a cheaper Z370 motherboard, which is the optimal choice.

CPU:
The processors should be simple, AMD's 3300X is great for gaming, but if you want to do more, a first generation 1700 can do more with its 8 cores and 16 threads. For Intel, the best choice is the 8700K, with its 6 cores and 12 threads.

Graphics Cards:
The most frequent bottlenecks, GPUs are essential to PC gaming. Purchase an RX 470, 480 or equivalent 500 series cards or a Vega 56 or 64. On the Nvidia side of things, the 1060, 1070 and 1080 cards come into consideration.

The Rest of the Build:
Almost any PC case with airflow and a mesh to keep the dust out will work. A rated, bronze, gold or platinum level power supply is recommended. You should purchase an SSD to keep things fast and loading times down. You shouldn't purchase less than 16 gigabytes of RAM, in order to keep Chrome sufficiently fed. Any monitor should suffice, hopefully one larger than 22 inches, and in full HD. Peripherals are a personal choice.

Follow this simple guide to build a PC on a budget. Enjoy your games!